Oil China-the leading exhibition in China

 

For more information, please contact the organizer:

Beijing Regalland Convention & Exhibition Co., Ltd.

Tel: 0086 10 64416542

Fax: 0086 10 64412631

Website: www.eoliveoil.com

E-mail: info@eoliveoil.com

 

 
 
 
 
 
| | |
| --- | --- |
| Chinese Edible Oil Market |   |
<![if !vml]>

<![endif]>China is more and more becoming the focus of attention in the world, especially, Chinese economy keeping the increase of7%-10% and owning 1.3 billions of Chinese people, which is expanding the local demand of all kinds of materials and food and making China little affect by the financial crisis, by contraries, Chinese demand for all kinds of materials and food will give foreign enterprises more and more business opportunity. According to the data from the custom and the forecast of related organizations, From 2002 to 2008, Chinese edible oil consumption keeps the raise of average 8%, and according to this percentage, in 2010 the consumption of edible oil will reach 29,000,000 ton, and the proportion of import edible oil is rising rapidly and is about 20%-50%, especially, bean oil, palm oil, colza oil, olive oil, grape seed oil, avocado oil and other edible oil. The following graph for your reference: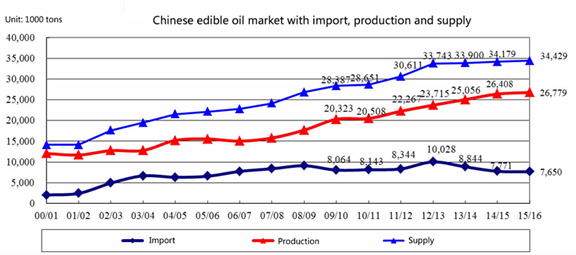 It is forecasting that in 2015 the consumption of edible oil will reach 30,000,000 ton and the average per person will also reach 20 kg (in 2008 15 kg per person). Over 60% of the above-mention consumption will completely rely on the import of edible oil because of the decrease of planting area and the limited yield of oil crops. In a word, Chinese huge market is opening for you and it is time to expand your business to China.
Chinese Olive Oil Market
As one of the food with nutrition value, olive oil is more and more welcome in China. At present more than 200-brand olive oil appears in Chinese olive oil market, which nearly 100% import from Spain, Greece, Italy, Turkey, Tunis, Portugal, Jordan, Australia and so on. The main consumption cities of olive oil are Beijing, Shanghai, Shenzhen, Guangzhou, Tianjin and other large and middle cities. According to the following graph, since 2004 the average proportion of import olive oil has been keeping the increases nearly 60% per year. With the same rate till to 2010 that World Expo will be held in Shanghai it will be over 25,000 tons. Along with the upgrade of the living level of Chinese people with the progress of health consciousness, olive oil will have the larger scale in Chinese edible oil market.